Product News
INNOVATION IS THE KEY
... and we have set off fireworks for you!
01| IN-GROUND LIFTING TECHNOLOGY
02| C_MBT TRUCK CONNECT UNLIMITED - BRAKE TESTER
03| TRUCKBAY PREFABRICATED TRUCK PIT
04| C_RGA MOBILE COLUMN LIFT
05| AXLE AND TRANSMISSION JACKS
06| LMS JOINT AND AXLE PLAY TESTER
07| MPC MAHA PARTICLE COUNTER
08| MSR 5000 MAHA SINGLE ROLLER DYNAMOMETER
09| MA STAR TRIPLE SAFETY TWO-POST LIFT
10| MLT 3000 2.0 MAHA LIGHT TESTER
11| EUSAMA PHASE SHIFT SHOCK ABSORBER TESTER
12| C_MBT CAR CONNECT UNLIMITED – BRAKE TESTER
13| DUO CM SCISSORS LIFT
14| INNOVATION IN THE BOX 2 + 12 = 14
Experience our innovations!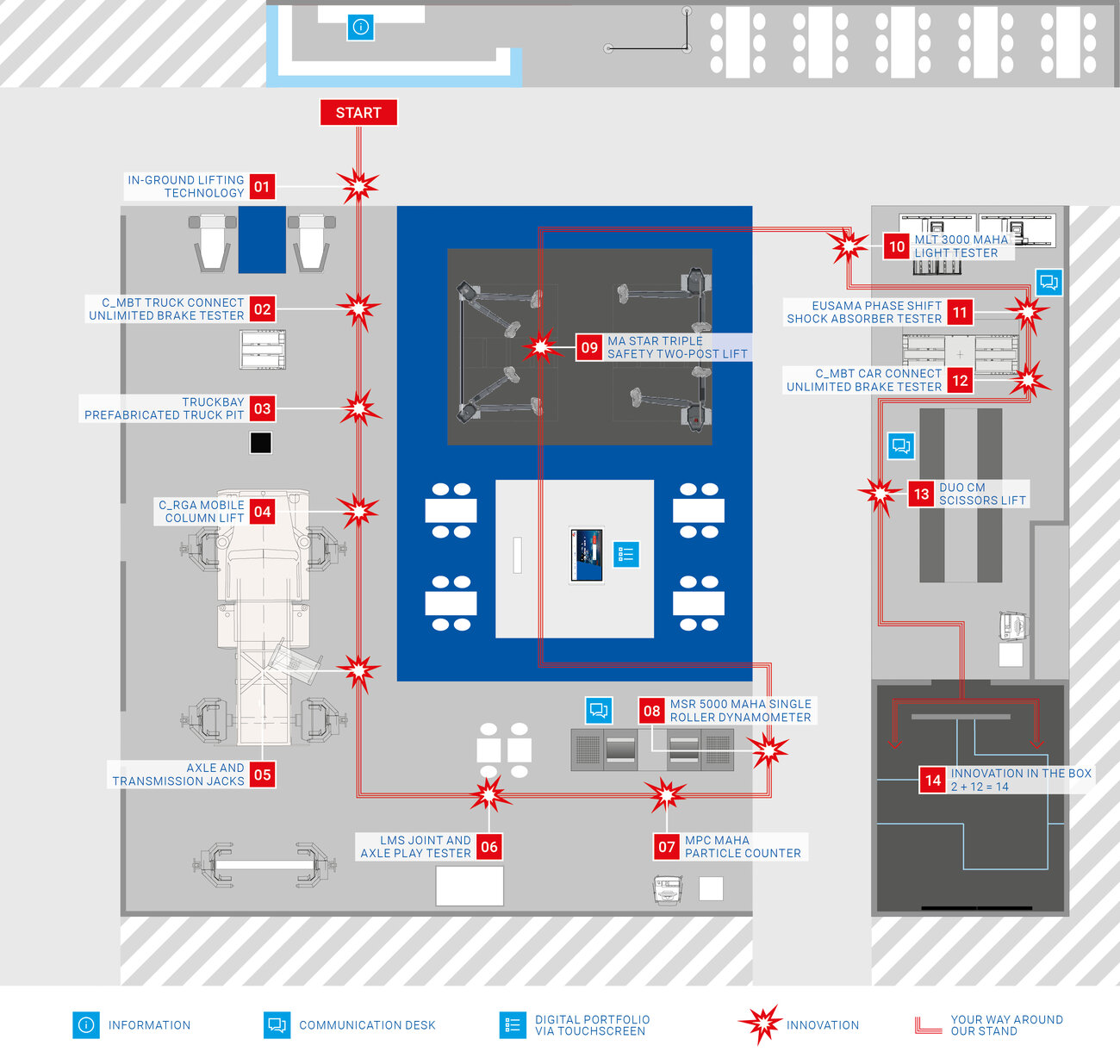 Exhibition News
More about our innovations and "Coming Soon - Products".
---
CONNECT Unlimited.
Everything is possible.
The product innovation of the decade - making good things even better. Using the platform of our excellent brake testers with more than 50 years of experience, MAHA has created a new generation that stands out.
10 out of 10 reasons
that speak for the new CONNECT.
A sturdy and solid design
Modular interface module in the floor assembly
Secure and digital data transmission
Modular cabinet set-up
Multi-flexible display possibilities »unlimited«
Simple start-up
Simple maintenance and service
Safe operation
Optimised calibration and adjustment
Integrated and expandable software and/or interfaces
CONNECT unlimited.
EVERYTHING IS POSSIBLE.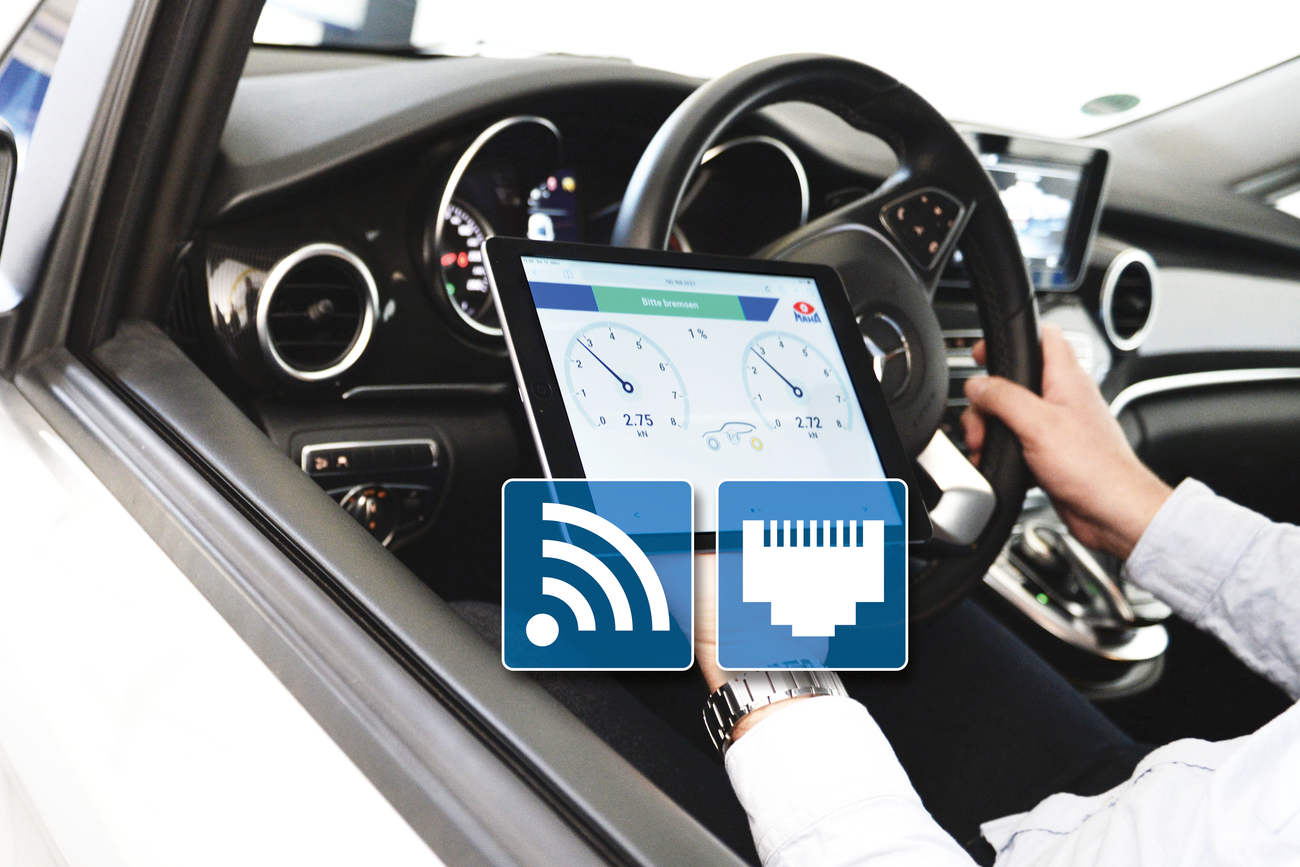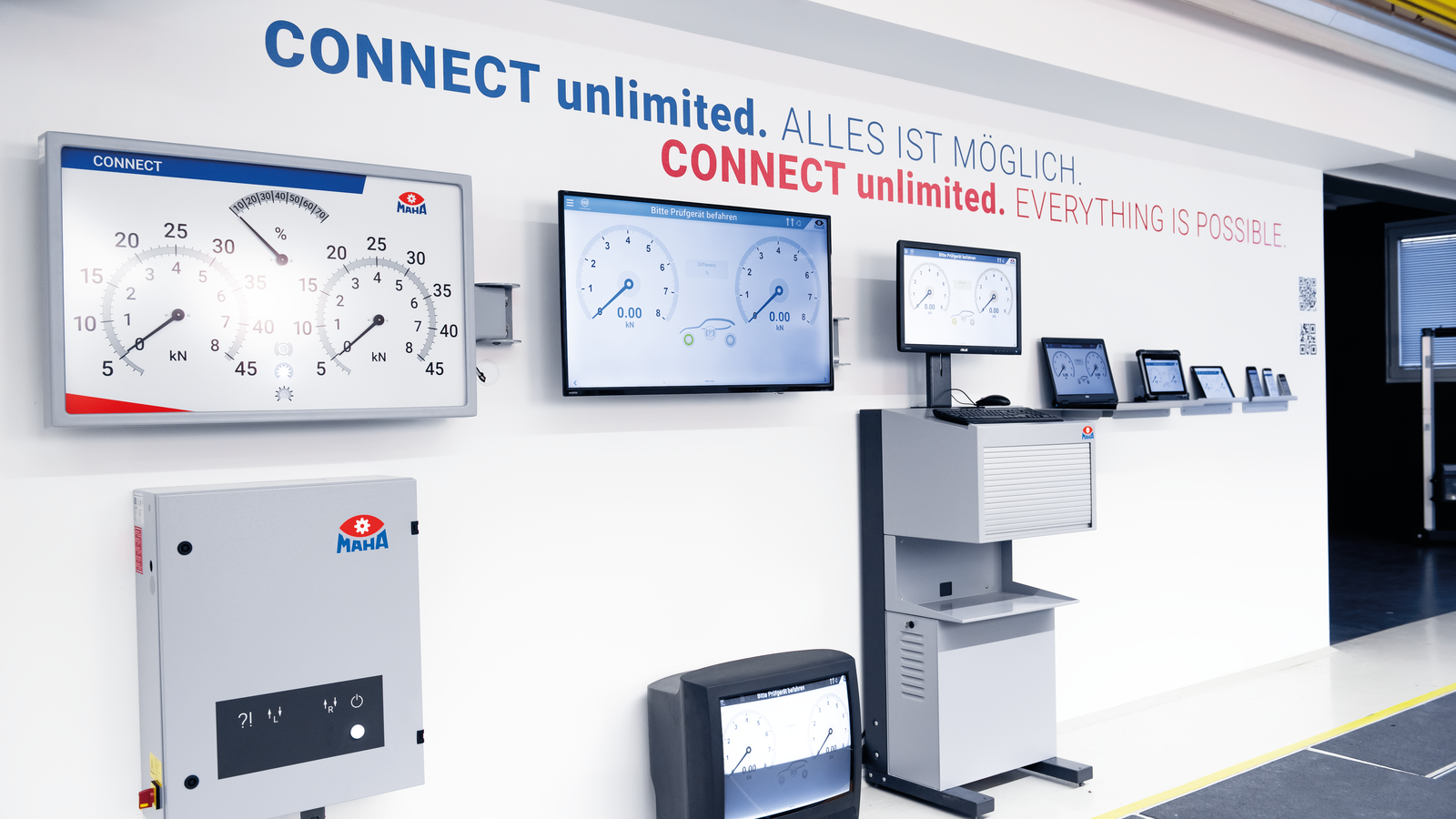 CONNECT SERIES - only PROS, no CONS
Our ultimate aim when developing the test stand was maximum availability for our customers in terms of fail safety. This is ensured by an extremely robust floor assembly in conjunction with components of the highest quality.
Another unparalleled product advantage is the modular design of the test stand which guarantees the future viability and development of our customers.
A unique-to-the-industry "end-of-line" test – i.e. each function of the test stand is put through its paces before every delivery – guaranteeing a high degree of certainty for customers when it comes to start-up and commissioning.
All options and sensors can be plugged in thanks to plug & play technology, guaranteeing extremely quick and straightforward maintenance.
Taking into account all these factors, we can safely say that technology and quality have prevailed and that this product has the potential to make our customers very successful.
Join us on our path towards a digital future
CONNECT unlimited.
EVERYTHING IS POSSIBLE.
CONNECT SERIES -
Product Video
CONNECT Series -
bring your own device
---
CONNECT CUBE V3
FOR MORE 'DIGITAL CONNECTIVITY
The CONNECT CUBE V3 - another milestone in MAHA's digitisation strategy. Different IT infrastructure, interface configuration, export and import function or complex network configuration are a thing of the past, because the CONNECT CUBE V3 simplifies your daily work enormously. It can be used as a mobile data node for all ASA livestream-capable brake testers of the manufacturers represented on the market. Plug'n'Play has never been easier. A further feature of the CONNECT CUBE V3 is its use during the safety test (SP) and the main inspection (HU) according to § 29 StVZO. Existing brake test stands that have an ASA livestream interface can be extended with the CONNECT CUBE V3 to include a digital display on laptop and smartphone. This is done via the usual browsers or with the integrated HDMI port for screen display.
The solution - made by MAHA: The CONNECT CUBE V3
No installation necessary (no app required)
Digital & paperless vehicle inspection
Independent of manufacturer
Digital CONNECT display and report output
Powerful battery (min. 10 hours)
---
MA STAR triple safety ***** 3.5 | 5.5
A new star is born
At the beginning of the year 2020, the world market leader MAHA launched its latest product at a national and international product event. The MA STAR triple safety***** two post lift with 3.5 t load capacity boasts triple safety and five stars for competitive value for money.
The stable and solid design, the safety of use, the straightforward maintenance and service, the simple commissioning and the intuitive operation each earn one star. Furthermore, the four registered patents are evidence of the worldwide technological leadership of MA STAR triple safety*****.
This new lift concept has been excellently accepted by the market. Several hundred units have already been sold in a very short time. At the beginning of 2021, the "big brother" with 5.5 t load capacity was launched..
A new STAR is born - MA STAR von MAHA
MA STAR triple safety ***** – A product that deserves its five stars, the MA STAR
A sturdy and solid design
Safe usability
Simple maintenance and service
Simple initial start-up
Intuitive operation
---
---
---
---
---
---
---