IN THE MIDDLE OF THE PLAY AND FULLY INVOLVED – Digitalisation made by MAHA
At MAHA we are constantly striving to advance and develop the latest technologies in order to offer our customers the best possible solutions. The advent of digitalisation is achieved through new product development, which then enables digital communication with modern software solutions and processes. MAHA – Pioneer of digitalisation in mechanical engineering.
The best software solution for vehicle inspection workflows. Worldwide.
Reduced to the essentials
Thanks to the intuitive user interface, users can find their feet quickly and work efficiently.
The visualisation is based on the principle of big, subtle and straightforward.
Machine data statistics
Guidance – made by MAHA Stay legally compliant. Our homologated V8 offers you a large number of vehicle inspection workflows for the PTI worldwide. Allow yourself to be guided through the inspection workflow in the most efficient way.
Connections – made by MAHA Stay connected. Connect your MAHA inspection devices with our V8. Reduce complexity in operation, workflow and data processing. A software solution for almost everything.
Individuality – made by MAHA Stay smart. Our V8 is intuitive in operation, with rapid and efficient display. Use state-of-theart displays, in dial or pie chart form, reduced to the essentials with all relevant information.
Mobility – made by MAHA Stay where you are. Our V8 allows you to use mobile solutions, e.g. even on the tablet, inside the vehicle and to display information on multiple workstations in a test lane. Perfectly
configured to meet your needs.
Reporting – made by MAHA Stay in the know. Our test reports provide all the required information, fast, precise and straightforward. Talk to your customers and show them where action is needed – in 39
languages, for 44 countries..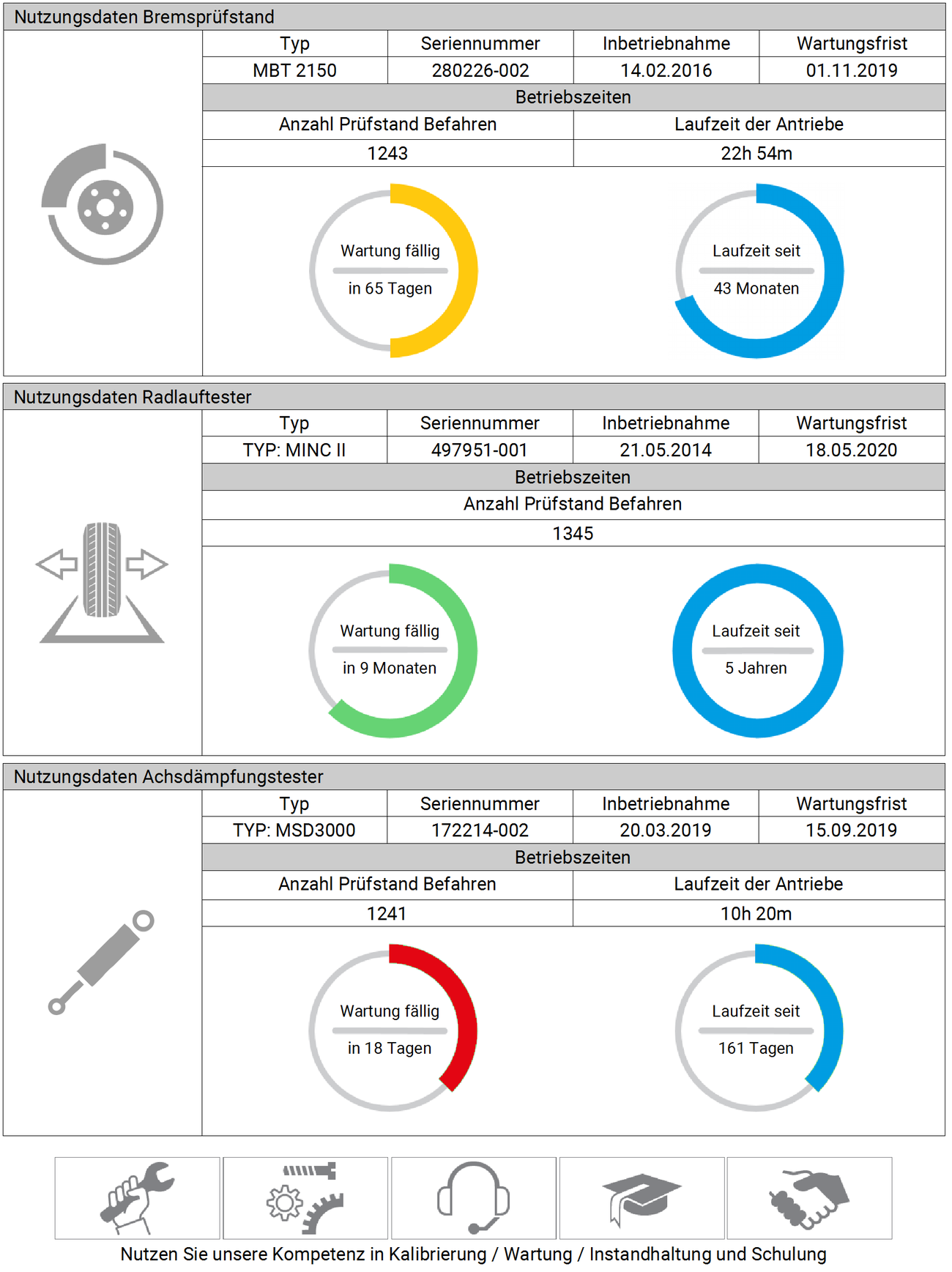 Software-modules
Tablet control via remote control (W-LAN)
Visual inspection
Extensive diagnostics menu for hotline, service centre, commissioning, etc.
Effortless activation of software and options via activation code
30-day test version with all available options
User management (with assignment of various rights)
Visualisation of load simulation (roller set lift or pull-down method)
Individual limit management for connected inspection devices, for expert requirements
Dynamic and static weight measurement
Visualisation of determination of the friction coefficient
Determination and visualisation of the ovality
Pedal force transfer via radio
Radio and infrared remote control
Brake balancing for trailer
Pressure and leakage test for pneumatic braking systems of utility vehicles
Optional incorporation of tachograph test
Additional software modules
Brake evaluation (safety inspection and extrapolation)
Multi-station capacity (expand test lane into sectional test bay)
MCTC Net2
Hysteresis graph
OTC-LAN
Noise detection (MSD)
Agricultural vehicles (Switzerland)
Time measurement GOST
MLT 3000 (light test) integration via Bluetooth
Encryption of ES_OUT interface
Automated licence plate recognition
Blockage warning (directly before slippage)
RFID for non-contact identification of the inspector (using passive transponders)
Recording of vehicle via IP camera
Connection of external noise level meter
Machine data statistics (incl. test report printout)
Biometric authentication by means of fingerprint scanner
THE MOBILE PLUG & PLAY SOLUTION FOR GENERAL AND SAFETY INSPECTION
GUIDELINE COMPLIANT GENERAL INSPECTION (ASA-LIVESTREAM)
Our mobile CONNECT CUBE spans an entire network, supplies the ASA livestream data directly to your mobile terminal device (laptop, tablet or smartphone) over Wi-Fi, and handles documentation in compliance with the relevant Directives (PDF creation). Regardless of the manufacturer. Regardless of the network variables, infrastructure or configuration. You don't need any additional accessories (no routers). Plug & Play has never been any easier than this. And, what's more, you don't even need to pay for any more ASA licences (asanetwork Manager 4.0 is already integrated).
SI-COMPATIBLE TESTING
Speed up your processes for FSD and TAK applications In connection with the SP-Adapter, our mobile CONNECT CUBE automatically provides the required ASA Livestream data to the SP-Plus software, allowing you to perform brake testing as set down for the general inspection according to Section 29 of the German Road Traffic Licensing Regulations.
MODERN CONNECT DISPLAY
Go digital! Our CONNECT CUBE allows you to display the brake test on your tablet, smart TV or smartphone in a modern way. You don't need a new brake tester to get our new Connect display and further features (save up to 10 measurements, create PDFs, etc.). Use your smart device to make the most of mobile working from your vehicle or elsewhere. And, best of all, you don't need an app and won't incur any more costs. Independent of any particular manufacturer.
Best for last:
Our CONNECT CUBE features integrated state-of-the-art technology to respond to your future digital world requirements, including the networked workshop, digital monitoring or M2M aspirations. Talk to us – we'll help you with your digitalisation process.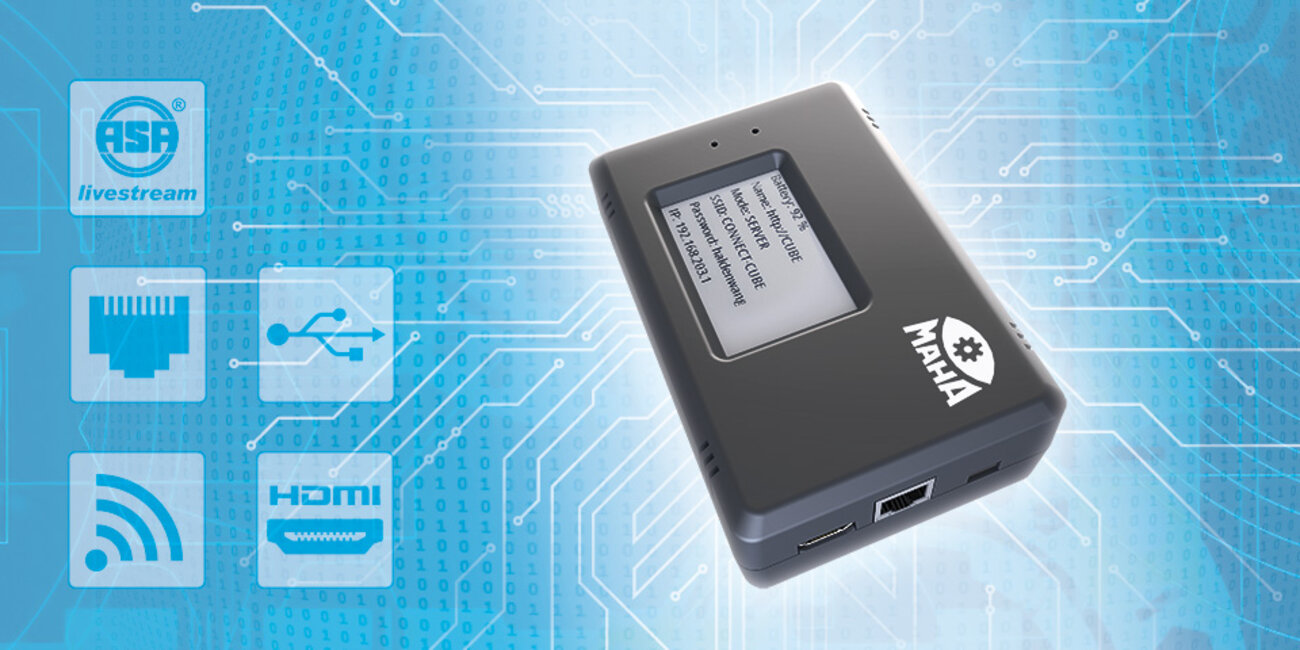 For more 'DIGITAL CONNECTIVITY'
The CONNECT CUBE V3 - another milestone in MAHA's digitisation strategy. Different IT infrastructure, interface configuration, export and import function or complex network configuration are a thing of the past, because the CONNECT CUBE V3 simplifies your daily work enormously. It can be used as a mobile data node for all ASA livestream-capable brake testers of the manufacturers represented on the market. Plug'n'Play has never been easier. A further feature of the CONNECT CUBE V3 is its use during the safety test (SP) and the main inspection (HU) according to § 29 StVZO. Existing brake test stands that have an ASA livestream interface can be extended with the CONNECT CUBE V3 to include a digital display on laptop and smartphone. This is done via the usual browsers or with the integrated HDMI port for screen display.
The solution - made by MAHA: The CONNECT CUBE V3
No installation necessary (no app required)
Digital & paperless vehicle inspection
Independent of manufacturer
Digital CONNECT display and report output
Powerful battery (min. 10 hours)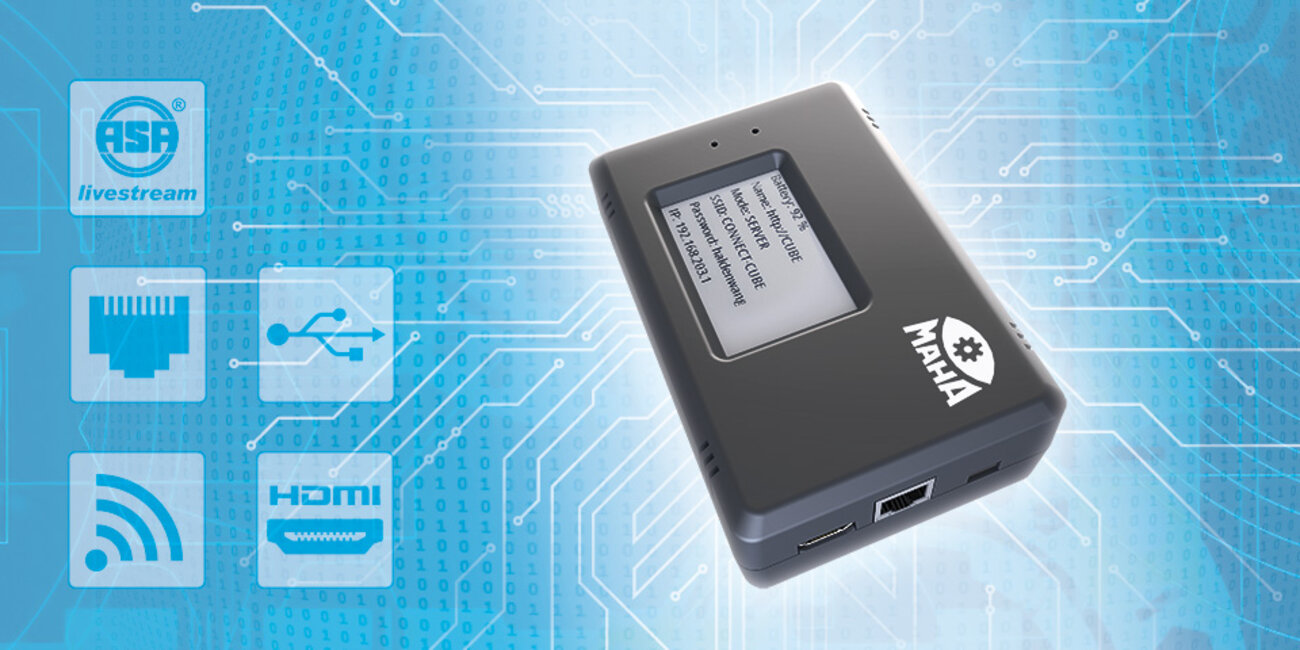 Independent of any particular manufacturer, and can be used with standard browsers
Free app; installation not necessary
Stable, self-sufficient WiFi network (access point), independent of existing networks; automatic network detection and connection
Can be integrated in an existing network as needed (client mode)
Energy-saving E-Paper display for intuitive operation
Self-sufficient energy supply using a powerful rechargeable battery (min. 10 hours)
Integrated magnetic holder for easy attachment to a metal switch cabinet or similar equipment
Scratch-proof plastic casing in RAL 7016; other colours available on request
ASA Livestream port in compliance with the relevant Directives
Measured values can be output, PDF logs can be created; no manual recording required
Modern CONNECT display with adaptive design for tablet, smart TV or smartphone
No consequential or licence costs; the device is not tied to a particular manufacturer or person
Application Programming Interfaces [API]