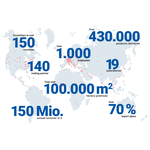 Images as ZIP download
The Bavarian-based workshop supplier is once again honoured twice. The awards: "World Market Leader – Champion 2023" for the sixth time in a row and "Valuable Employer – High Contribution to the Common Good" for the second time in a row.
Haldenwang, 17thJanuary 2023. Every year, the list of world market leaders is compiled by the University of St. Gallen (Switzerland) in cooperation with WirtschaftsWoche, Germany's leading business magazine. Companies that qualify as world market leaders are evaluated according to sales in the relevant market segment, annual sales and also according to their internationality. MAHA has now been recognized for the sixth time in a row as the world market leader in the field of workshop and motor vehicle testing equipment and can take pride in the title "World Market Leader – Champion 2023". It was noticeable this year that 20 companies dropped out due to the special economic situation and global crises. This figure is particularly high. However, MAHA is steadily moving forward and was once again able to defend its world market leadership.
Once again valuable employer
For the second award, the market research institute ServiceValue, commissioned by WirtschaftsWoche, asked citizens across Germany to assess the value of a total of 2122 companies for the common good. MAHA received excellent ratings in this survey and was thus identified as a valuable employer. No sales or profit figures were analyzed for the study, but only how relevant a company is considered to be in terms of the common good in the respective region.
"We accept the current times and global crises as challenges and also see them as opportunities. Our company has a lot to offer in addition to a very high production depth in the Bavarian region. Driven by passion and innovative strength, the awards spur us on even more to continue defending precisely this position of our company," says Managing Director Stefan Fuchs. World Market Leader. Made in Germany. Made in Haldenwang. Made by MAHA.
Both results were published by the official media partner WirtschaftsWoche at wirtschaftswoche.de. The ranking of world market leaders was also presented in an exclusive special edition entitled "The 500 Secret World Market Leaders 2023" on 98 pages.